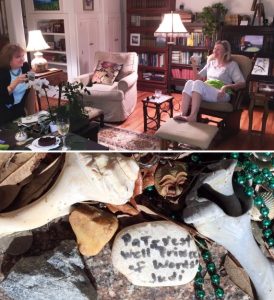 The Armchair that went empty on March 4th 2016 is still empty, although great love is surrounding it and embracing Pat's widow, writer Cassandra King Conroy, who feels the love of family, friends and Pat's devoted readers like yourself, especially today.
I have been posting some thoughts and bits of news about our common passion for the irreplaceable prince of words for years now. You overwhelmingly responded to every one of them. We are enormously grateful for your loyalty and love for the Prince of Words. Yes, Pat loved words but he loved people more. I want to share a few simple words from Pat's writing which may sound ordinary but they exemplify so much of who he was when he wrote "Words are pretty, but anyone can talk. Pay attention to those who perform."
Pat Conroy recognized "people who perform" in his writings, in real life through his many deeds, and often in person. He "hosted" unforgettable characters in his writings and made most of them beautiful, witty and lovable, since despite his strong sense of right and wrong, he was not a hater. In fact, he did not have the smallest bone of hate in his body. Pat's generosity included the entire world, and despite his tumultuous upbringing and troubled past, he made peace where he could before his departure. His model of hospitality and kindness is something we sorely need today.
So let's lift a glass in memory of Pat and in his honor remember to hold our friends a little closer.