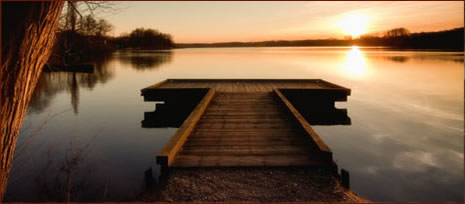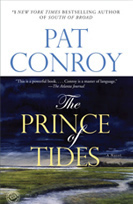 >>Readers Guide
I grew up slowly beside the tides and marshes of Colleton; my arms were tawny and strong from working long days on the shrimp boat in the blazing South Carolina heat…I was born and raised on a Carolina sea island and I carried the sunshine of the low country, inked in dark gold, on my back and shoulders. As a boy I was happy above the channels, navigating a small boat between the sandbars with their quiet nation of oysters exposed on the brown flats at the low watermark. I knew every shrimper by name, and they knew me and sounded their horns when they passed me fishing in the river.
— From the novel
Description
In this best-selling novel, Pat Conroy tells the story of Tom Wingo, his twin sister, Savannah, and the dark and violent past of the family into which they were born.
Set in New York City and the low-country of South Carolina, THE PRINCE OF TIDES opens when Tom, a high school football coach whose marriage and career are crumbling, flies from South Carolina to New York after learning of his twin sister's suicide attempt. Savannah is one of the most gifted poets of her generation, and both the cadenced beauty of her art and the jumbled cries of her illness are clues to the too-long-hidden story of her wounded family. In the paneled offices and luxurious restaurants of New York City, Tom and Susan Lowenstein, Savannah's psychiatrist, unravel a history of violence, abandonment, commitment, and love. And Tom realizes that trying to save his sister is perhaps his last chance to save himself.
With passion and a rare gift of language, Pat Conroy moves from present to past, tracing the amazing history of the Wingos from World War II through the final days of the war in Vietnam and into the 1980s, drawing a rich range of characters: the lovable, crazy Mr. Fruit, who for decades has wordlessly directed traffic at the same intersection in the southern town of Colleton; Reese Newbury, the ruthless, patrician land speculator who threatens the Wingos' only secure worldly possession, Melrose Island; Herbert Woodruff, Susan Lowenstein's husband, a world-famous violinist; Tolitha Wingo, Savannah's mentor and eccentric grandmother, the first real feminist in the Wingo family.
Pat Conroy reveals the lives of his characters with surpassing depth and power, capturing the vanishing beauty of the South Carolina low-country and a lost way of life.

Praise
"Brilliant."
Chicago Tribune
"Reading Pat Conroy is like watching Michelangelo paint the Sistine Chapel."
Houston Chronicle
"A big, sprawling saga of a novel…the kind you hole up with and spend some days with and put down feeling you have emerged from a terrible, wonderful spell."
San Francisco Chronicle
"A masterpiece."
Detroit Free Press
"This is a powerful book…Conroy is a master of language."
The Atlanta Journal
"A literary gem…The Prince of Tides is in the best tradition of novel writing. It is an engrossing story of unforgettable characters…. Its description of rural South Carolina and the effect of that ambiance on those who live there is masterful. Pat Conroy writes from the heart."
The Pittsburgh Press
"A masterpiece that can compare with Steinbeck's East of Eden…Some books make you laugh; some make you cry; some make you think. The Prince of Tides is a rarity: It does all three."
Detroit Free Press
"By far, Conroy's best work."
The Atlanta Journal
"Teeming with the blows and victories of three generations…The Prince of Tides is Southern to the bone, in its generational saga, as well as its primeval geography of the heart."
The Boston Sunday Globe
"A seductive narrative, told with bravado, flourishes, portentous foreshadowing, sardonic humor and eloquent turns of phrase…For sheer storytelling finesse, Conroy will have few rivals."
Publishers Weekly
"With The Prince of Tides, it is Pat Conroy who has made the language sing and bleed at the same time. The pleasure is ours, but the triumph is his."
The Houston Post
"A brilliant novel that ultimately affirms life, hope and the belief that one's future need not be contaminated by a monstrous past."
Chicago Tribune
"Powerful."
United Press International
"Compulsively readable."
Glamour