"Hemingway didn't know he was Ernest Hemingway when he was a young man. Faulkner didn't know he was William Faulkner. But they had to take the first step. They had to call themselves writers. That is the first revolutionary act a writer has to make. It takes courage. But it's necessary."
— Pat Conroy, My Losing Season
As Pat Conroy's literary agents and longtime friends, we plan to do our part to help keep his literary legacy alive. These pages are created as a place for his readers and admirers to meet and exchange "words", the very foundation of our understanding of each other. There are no rules other that our request these exchanges be conducted with civility, kindness, and perhaps a bit of brevity, while fully acknowledging that brevity was never one of Pat's strong suits. And yes, a bit of humor would likely be appreciated; the world certainly can use it.
This 'blog' begins with an older review of a book Pat Conroy played a part in seeing into print: the debut novel by the award-winning poet John Lane. The reader's review below appeared on Amazon around the time of this small gem's publication.
Of course you need not limit yourself to writing about books, feel free to share cooking tips- perhaps you want to tell us about an extraordinary new "frying pan" you recently discovered or maybe you have an opinion for or against slow cooking with a Sous-vid – a controversy raging in our household.  Write about life. Politics? What do you think? Perhaps not so much. There are many other places to gather for those discussions.
As literary agents we will on occasion post observations about books and publishing, but we may also offer a few paragraphs or a prologue from a book to get you thinking. Or perhaps we will share a recipe by Pat Conroy, Cassandra King Conroy. We expect others to contribute- (Janis Owen? Are you out there?) At this time we do not have a "blog" master (Pat hated this word and yet he always responded to my requests to write a letter to his readers.) But we will get there with your interest and support.
We hope you will jump in. The water is fine. Let your imagination and heart direct you.
Fate Moreland Widow
A story with staying power – March 22, 2015
Format: Hardcover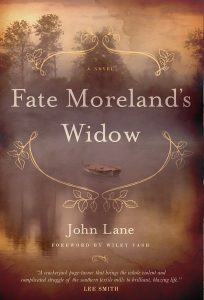 This story has staying power – any strong emotion (love, death) would of course fade with time but it isn't the kind of book that you finish, close the covers and go, say, fishing and that's that. It stays with you, it clings to you and brings on more thoughts… somehow it wants you to think deeper and deeper about the 'whys' of the story.
I noticed the device that John Lane the author used brilliantly… the prologue that gives us a glimpse into the story and the ending with the trip back to Huntsville, that made me weep for Ben, for all the others I met along the way.
This is not the story of the elusive and beautiful Novie Moreland, the widow, as I thought it would be, while aching for her along with Ben Crocker throughout the story. All that I read and loved about every character, from 'villains' to 'saints' is grafted onto the heart breaking lives of the cotton mill workers of South Carolina's past.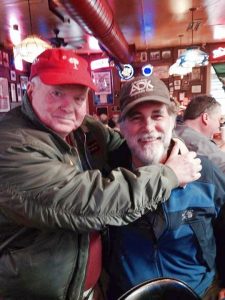 There are so many books out there and so little time to read but this one is a fast read and will reward you handsomely!
Comments are open and you can approach any issue you think appropriate. A favorite recent debut novel perhaps?
We are also thinking if you have a short essay of 1,000 words or so that could stir some interest we will post it under your name; then you'll have all comments you can generate to hopefully create a conversation. We know and hope that some friends like Joe Palmer, Roger Jones, Cele & Lynn Seldon and others… will stop by to say hello.
Marly Rusoff and Mihai Radulescu