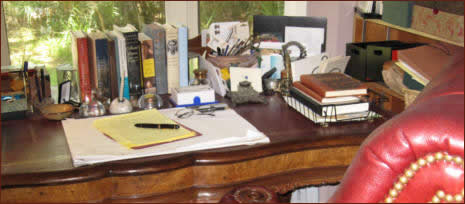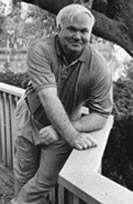 Pat Conroy is a self-described troglodyte who never learned to type, (thank you Santini!). Now his web site affords him the rare opportunity to speak directly to his readers through occasional letters. This is the first one. If you send a message to Pat through the Contact page or you give us your email address we will send you copies of these letters from Pat as he writes them.
August 3, 2009
This is the first letter I've ever written for a web site, modern times seem to require it of all human beings. This web site was produced by Mihai (Michael) Radulescu, my agent Marly Rusoff's partner, who spent a couple of hours explaining its intricacies and its cunning store of useless data concerning my own squirrelly life. I'm the only writer I know whose website bears the artistic mark of a native born Romanian. The Internet remains a mystery to me as vast and untouchable as any ocean. I don't understand it but the wizards and snake handlers who control me tell me that all this is part of the inexplicable strangeness of the world we now inhabit.
My health went south on me this spring. In the middle of May, I began internally bleeding. I took this as a very bad sign that did not bode well for a frisky old age. My wife Cassandra drove me to the emergency room in Beaufort where my doctor, Lucius Laffitte, met me and got me to to the Medical University of South Carolina. All the nurses and doctors there were spectacular. They saved my life.
Everything that was wrong with me that night was my fault. I had tantalized the fates by embracing that life defying trifecta: overeating, overdrinking, and lack of exercise. I'm trying to develop the appetite of a parakeet, drink nothing stronger than Clamato juice, and try to do aerobics in a Fripp Island pool as often as I can. When I enter the pool I look as though I'm trying out for a part as Moby Dick. It's not a pretty sight.
The tour for South of Broad began at my house at Fripp this past week. The tour is abbreviated because of my health, which I regret. I always liked meeting and talking to you guys on the road, but that was at a time before airline travel become an American nightmare. I'll go by car on most of the signings, and we'll see how it goes. I'm alone in a room for most of my life, writing, and I love it when readers bring me news of the outside world. That part of my life might be coming to an end, and nothing fills me with more regret. To have attracted readers is the most magical part of my writing life. I was not expecting you to show up when I wrote my first books. It took me by surprise. It filled me with gratitude. It still does.
Yesterday, August 2, I took my agents to Charleston for a tour of the city. A young publicist from Random House, Elizabeth Johnston, went with us. She married a Marine Corps fighter pilot and they are stationed at the Marine Corps Air Station where he is in training before shipping out to one of the war zones. I've always taken a childish joy in showing off Charleston to strangers in the city.  Charleston never lets me down, but this time my tour of the city had an unusual twist. I showed them Charleston through the eyes of the narrator of South of Broad, Leo King. I followed Leo's paper route through the old part of the city, showed them the high points and low points of Leo's career as a child. I showed them the distinguished line of mansions that grace the jacket of the book. To me it composes the prettiest formation of houses in the book. We toured The Citadel and I pointed out the places I had lived when I was pretending to be a cadet. I owe The Citadel more than I can express in words. That day, The Citadel was beautiful in sunlight, and Charleston strutted in the beauty of all its strange elixirs. For lunch we ate at Magnolia; all four of us ordered seafood over grits: lobster, shrimp, and scallops with a lobster sauce. It was as good as food can get. Later I returned home. I remembered dozens of things I forgot to tell them. My new book has changed the way I see and present Charleston, and nothing makes me happier.
There are at least three books I want to write before I buy the farm, and I've already begun the first of those.  In it, I'm visiting my real family for one final look, one last summation of all I learned from being part of that hurt and glorious tribe. I've written the first three chapters, and I'll try to finish it next year.
For the second book, Nan Talese wants me to write an Atlanta novel and I told her I would do it. Because of my illness I feel a great imperative to write faster and become more prolific as I limp toward my final chapter.  And, the third book is a novel about the first two years of teaching at Beaufort High School when I fell in love with all the kids I taught.  My friend, Bernie Schein, calls them "the best years" and I look back to them as the happiest of my life. I adored those students and they seem to like me right back.
I close the first letter with relief and some anxiety. They tell me I should do this every now and then.  In some ways it seems like a nightmare for someone who never learned to type, in other ways an opening to the light.
Great love out there,
Pat Conroy