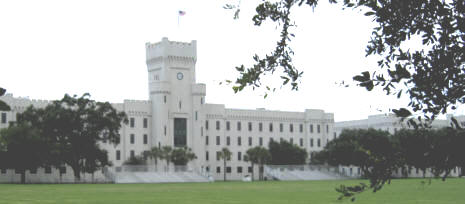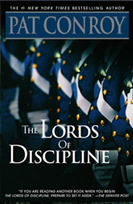 …I have a need to bear witness to what I saw there. I want to tell you how it was. I want precision. I want a murderous, stunning truthfulness. I want to find my own singular voice for the first time. I want you to understand why I hate the school with all my power and passion. Then I want you to forgive me for loving the school. Some of the boys of the Institute and the men who are her sons will hate me for the rest of their lives. But that will be all right. You see, I wear the ring.
— From the novel
Description
THE LORDS OF DISCIPLINE is a novel about coming of age, brotherhood, betrayal, and a man's forging of his own personal code of honor. The scene is the venerable Carolina Military Institute in Charleston, in the fall of 1966. The first black cadet has been admitted to the college, and Will McLean, a senior on the cadets' honor court, is asked to keep an eye on him. There is a rumor that a secret organization, The Ten, may be trying to run the black student off campus.
An outsider by nature, Will plays basketball for a school that prizes military prowess but belittles athletics. He riles his gung-ho, conservative roommates by daring to question the escalating Vietnam war. Off campus, though, he is less sure of himself, in his tender but uncertain romance with the haunting Annie Kate Gervais, a native of the classically beautiful Charleston — with its Federal mansions and fragrant gardens — that captivates and threatens the country boy in Will.
THE LORDS OF DISCIPLINE shows us cadets desperate to prove they are men in a regimented, cruel world — and one determined to be a man in is own way, whose search for the truth ultimately leads him and his beloved friends into tragic conflict with a corrupt system.
Right in humor and suspense, abounding in a rare honesty and generosity of feeling, and written with magnificent force of language, this novel established Pat Conroy as one of the strongest fictional voices in a generation.
Praise
"If you are reading another book when you begin The Lords of Discipline, prepare to set it aside."
The Denver Post
"The Lords of Discipline is, simply, an American classic."
Larry King
"A work of enormous power, passion, humor, and wisdom."
Washington Star
"Sweeps the reader along on a great tide of honest, throbbing emotion. It is the work of a writer with a large, brave heart."
Washington Star
"God preserve Pat Conroy."
The Boston Globe
"Compelling storytelling…Conroy takes aim at our darkest emotions, lets the arrow fly and hits a bull's-eye almost every time."
Milwaukee Journal Sentinel
"Few novelists write as well, and none as beautifully."
The Lexington Herald-Leader
"Conroy is an outstanding storyteller."
Birmingham News