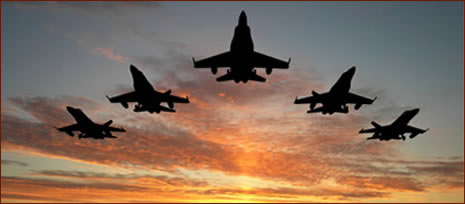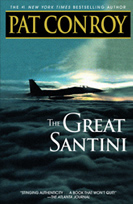 …For much of his youth, Ben had strained to see black and silver fighter planes coming out of cloud banks or winging down like huge birds of prey from heights where an eye could not go unless it was extraordinarily keen or the day was very clear. He had lost count how many times he had waited beside landing strips scanning the sky for the approach of his father, his tall, jacketed father, to drop out of the sky, descending into the sight of his waiting family, a family who over the long years had developed patient eyes, sky-filled eyes, wing-blessed eyes… As they ran to him, that echo from past memories rang in their brains, that password into the turbulent cellular structure of the past, the honeycomb of lost days, of laughter and fury, that told them as they ran to his outstretched arms a simple message: Lt. Col. Bull Meecham, United States Marine Corps, was back from Europe. The father had landed. The Great Santini was home.
— From the novel
Description
THE GREAT SANTINI takes us into the family life of a fighter pilot. Bull Meecham is the epitome of the Marine officer — as tough a disciplinarian at home as at the base. Rebellion, or even difference of opinion, is not tolerated. Objections are met with the statement "The Great Santini has spoken." As the oldest child, Ben takes the brunt of his father's criticism. His attempts to stand up for himself or his mother and sister are contemptuously dismissed. His feelings for his father are a mixture of hate and fear, reluctant pride in his prowess, and unacknowledged love.
The Marine Corps and flying are the most important things in Bull's life. Next come his image as a tough guy, the Catholic Church, his old buddies, and his wife and children. His sons are destined to become Marine pilots, his daughters to provide their husbands (Marines, naturally) with a good home and more fodder for the Corps.
Ben is eighteen and a born athlete. So his father's fierce drive for a successful son is concentrated on him, and nothing less than perfection is considered acceptable — a perfection of which Bull is the sole judge. Ben must learn that, in a game, sportsmanship should go by the board when necessary; what matters is winning, regardless of the means.
This is the story of a boy's determination to be himself, whatever that may be. It is violent, shocking, funny, moving, and overwhelmingly real. From the early pages, with Bull's wife and children waiting at the airport to welcome the Great Santini back into their midst, to the bittersweet ending, the reader's interest and emotions are fixed upon the fluctuating fortunes of the Meecham family.
Praise
"Stinging authenticity…a book that won't quit!"
Atlanta Journal
"Robust and vivid…full of feeling."
Newsday
"An impressive novel."
San Francisco Examiner
"God preserve Pat Conroy."
The Boston Globe
"Few novelists write as well, and none as beautifully."
The Lexington Herald-Leader
"Conroy is an outstanding storyteller."
Birmingham News
"Compelling storytelling…Conroy takes aim at our darkest emotions, lets the arrow fly and hits a bull's-eye almost every time."
Milwaukee Journal Sentinel
"A fine, funny, brawling book… Domineering, authoritarian, selfish, arbitrary, even cruel, relegating all that is gentle or sensitive to the domain of women, he is a Marine pilot who runs his household with all the kindness and understanding of a drill instructor shaping up a bunch of raw recruits."
The National Observer
"A tender, raucous and often hilarious story."
Booklist
"Conroy has captured a different slice of America in this funny, dramatic novel."
Richmond News-Leader