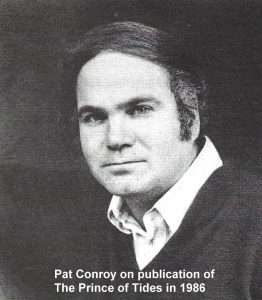 We may soon have another way to show our love for The Prince of Tides and our beloved author, Pat Conroy, our "Prince of Words", if a multipart series based on this novel makes it out into the world!
Yesterday the news leaked out regarding a multipart series currently being developed by Apple, based on Pat Conroy's internationally bestselling novel THE PRINCE OF TIDES. It is still in the early stages, but a great team of Conroy lovers are now involved in making this series happen so we have high hopes that something good will come of this.
Sharon Hall of "Mom deGuerre Productions" has been chasing this story for many years, hoping to see a remake of the novel into film. She is Executive Producer of the hit Amazon series "The Expanse," as well as the Amazon series "Utopia" from writer Gillian Flynn. Hall was able to bring on Tate Taylor to write the script, (whose credits include "The Help" and "Girl on the Train"), and also to executive produce the adaptation, along with John Norris who will executive produce with him under their Wyolah Entertainment banner. Sony producer Craig Anderson has long been involved in this project that, once made, will be released on The Apple Network by TriStar, a division of Sony.
We promise to let you know as more news becomes available on this and other possible Conroy film projects. And more news will surely come. Conroy's ability to write characters we love in stories with multiple plot lines makes his novels perfect not only for feature films but also for today's popular multipart productions.
Hang onto your seat! This is just the beginning.