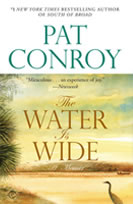 >>Readers Guide
>>The Water is Wide – Students Today
It was a strange year, a kind of seasoning among the marshes, the migrating fowl, and the people of the island. I had to write this book to explain what happened and how it affected me. When I was severed from the school, I knew I had lost a relationship of infinite and timeless value, and one that I would never know again… During the entire period of my banishment and trial, I wanted to tell Piedmont and Bennington that what was happening between us was not confined to Beaufort, South Carolina. I wanted to tell them about the river that was rising quickly, flooding the marshes and threatening the dry land. I wanted them to know that their day was ending… They were old men and could not accept the new sun rising out of the strange waters. The world was very different now.
Someone told me about Yamacraw, said they needed a teacher, that the teacher who had been there thirty-nine years was quitting, and they couldn't get anyone else. This looked like the perfect opportunity for me to get rid of my do-gooder tendencies. And so I went to Yamacraw Island. They gave me a boat, told me 'Good Luck,' and that was all they told me.
The first thing I learned when I got there was that fourteen of the seventeen kids in grades five through eight read below the first grade level. Five of the kids did not know the alphabet; five of the kids also did not know how to add one and one, two and two, things I thought rather basic in the education of most people. I also discovered that most of the kids have been trained to obey the whip and the belt and the hand. What they feared most was physical punishment. Everyone in my class was interrupted by the sound of leather on flesh from the next room. And these kids evidently had become accustomed to corporal punishment and they would learn only in response to corporal punishment. The thing I thought I had to do first was to not beat the kids but to let them know that education was fun.
— From the memoir
Description
Yamacraw Island was haunting, nearly deserted, and beautiful. Separated from the mainland of South Carolina by a wide tidal river, it was accessible only by boat. But for the handful of families that lived on Yamacraw, America was a world away. For years these families lived proudly from the sea until waste from industry destroyed the oyster beds essential to their very existence. Already poor, they knew they would have to face an uncertain future unless, somehow, they learned a new life. But they needed someone to teach them, and their run down schoolhouse had no teacher.
THE WATER IS WIDE is Pat Conroy's extraordinary memoir based on his experience as the only teacher in a two-room schoolhouse, working with children the world had pretty much forgotten. It was a year that changed his life, and one that introduced a group of poor black children to a world they did not know existed.

THE WATER IS WIDE was made into the film CONRACK who we dare to say, together with the book itself made some young people choose a teaching career. At some time we will have a feature here with those who chose this career because of the book…

Praise
"Miraculous…an experience of joy."
Newsweek
A hell of a good story."
The New York Times
"An exciting and inspiring book."
St. Louis Post-Dispatch
"A powerfully moving book…You will laugh, you will weep, you will be proud and you will rail…and you will learn to love the man."
Charleston News and Courier
"God preserve Pat Conroy."
The Boston Globe
"Conroy is an outstanding storyteller."
Birmingham News
"Conroy cuts through his experiences with a sharp edge of irony…. He brings emotion, writing talent and anger to his story."
The Baltimore Sun
"This is not a funny book, but you will find yourself in belly-heaving laughter; this is not a sentimental book, but you will weep; this is not an angry book, but you will shiver with antagonism at man's inhumanity to man; this is not a pretty book, but you will be haunted by some of its passages…The Water Is Wide is a great book."
Charleston Evening Post
"Few novelists write as well, and none as beautifully."
The Lexington Herald-Leader