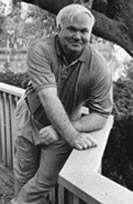 (Taken from a speech delivered at the annual American Booksellers Association convention in 1985)
My mother, southern to the bone, once told me, "All southern literature can be summed up in these words: 'On the night the hogs ate Willie, Mama died when she heard what Daddy did to Sister.'" She raised me up to be a southern writer, but it wasn't easy. I didn't grow up in that traditional South. The Marine Corps moved us almost every year of my childhood, and always to southern towns close to swamps and the sea. I always came as a visitor; I never spent a single day in a hometown. The children of warriors in our country learn the grace and caution that come from a permanent sense of estrangement. I grew up in twenty versions of the South and was part of none of them. At an early age I began to collect the stories that give the native-born a sense of rootedness and place.
My mother thought of my father as half barbarian and half blunt instrument, and she isolated him from his children. When he returned home from work my sister would yell, "Godzilla's home," and the seven children would melt into the secret places of whatever house we happened to be living in at the time. He was no match for my mother's byzantine and remarkable powers of intrigue. Neither were her children. It took me thirty years to realize that I had grown up in my mother's house and not my father's. Like him, I had missed the power source.
In 1984, when I was in the middle of writing The Prince of Tides, I drove down to spend two weeks with my mother in a hospital in Augusta, Georgia. She was receiving chemotherapy treatments for the leukemia that would kill her. My mother's favorite character in a book was Scarlett O'Hara and her favorite actress was Vivien Leigh playing Scarlett O'Hara. I grew up thinking that my mother was every bit as pretty as Vivien Leigh and that Scarlett on her best day wouldn't have been a match for my mother. But chemotherapy is not kind to beauty.
One moon-filled night I stayed in my mother's room, to help her through the terrible hours, and she wanted to talk about The Prince of Tides. "I'm in your new book, aren't I, Pat?" she asked.
"No," I said.
"Liar," she said. "When you wrote The Great Santini you weren't good enough to write about me. I was far more powerful than your father ever was. You just didn't see it."
"I saw it, Mama," I said. "But you're right—I wasn't good enough to write about it."
"I like to ask you a favor in the new book, Pat. Don't write about me like this. Make me beautiful. Make me beautiful again."
I knelt beside my mother's bed and said in a voice that I barely recognized, "I'll make you so beautiful, Mama. You made me a writer and I'm going to lift you out of this bed and set you singing and dancing across the pages of my book forever."
"And after you write about my death," my mother said with a smile, "I'd like Meryl Streep to play the role in the movie."
My mother was like a whole civilization of women wrapped up in a single comely package. She was complicated, maddening, irreplaceable. I will never be good enough to write about her. In part The Prince of Tides is a love letter to the dark side of my mother.
I don't think you'd like the portrait, Mama, but wherever you are, I made you beautiful.