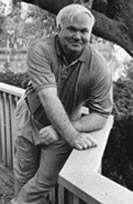 August 2006
On Paris, writing, food and friendship
In the last days I would ever feel like a young man, I went to live in Paris to finish the novel I was writing at the time, The Lords of Discipline. While attending The Citadel, I had gone into an uncontrollable rapture when I read Ernest Hem-ing-way's A Moveable Feast. He made the city of Paris glisten with a romantic luster it has never lost for me, and I could think of no finer way to spend a part of my life than by writing a book in the storied, uncapturable city of literature and light.
My decision to go to Paris was both whimsical and spontaneous. Houghton Mifflin had just assigned me my third editor at the publishing company, the brilliant, young, and fastidious Jonathan Galassi, who was destined to be one of the greatest editors ever to walk the streets of New York. I had liked everything about Mr. Galassi until he called to tell me he had accepted a grant and a sabbatical to live in Paris and Rome for a year while he translated the essays of Eugenio Montale. It irritated me that I had never heard of Montale, but Jon was that kind of intellectual. His mind was the most exciting country he would ever visit. But it amazed me that he would be in Europe and unavailable when my novel made its shy appearance the following year.
"It's an outrage," I said on the phone. "It's a com-plete betrayal of our relationship as novelist and editor, Harvard boy."
"It's a done deal, Pat," he answered in his calm, mannerly editor's voice, which contained all the passion of a bivalve. "I've already accepted both the grant and the sabbatical."
"You can't do this to me," I said. "You just can't do it."
"Why don't you go with us?" he asked. "I'll work something out with Houghton Mifflin."
So I spent a cold and glorious winter in an over-cast Paris, where it rained almost every day. Su-san and Jonathan Galassi helped me find the reasonable, finely located Grand Hôtel des Balcons, just steps away from the Place de L'Odéon and the Luxembourg Gardens, in the sixth arron-dissement. My concierge was a surly, imposing woman, but she brightened when I paid her the first month's rent, and she put me in a garret on the top floor with her other artistes. My room had a balcony, a sink, a bed, a very good desk and chair, and a view of the Eiffel Tower. The room cost me seven dollars a night, and every time I paid my rent, I felt I had just robbed a bank. The room was not only cheap, it came with a breakfast of croissants, butter, jam, and coffee. It was easy to fall in love with morning when it started off with such a simple but delicious feast.
From the very beginning, the writing went well. I learned to work with the French doors thrown open to the balcony, which also served as my refrigerator and wine cooler and cheese drawer. I learned to write to the rhythm and pace of French rain, and I could feel the story unfolding inside me as I filled up yellow legal pads in a language that few in the hotel could read. Though my French did not improve, I would feel the English language beginning to well up inside me as it formed itself into chandeliers and peacocks and burnished cutlery. I could feel the whole city doing its subtle, cunning work on me, as I had begun to write sentences that sounded more like stained-glass windows than clear-eyed explanations of the events at hand. Before that moment, I didn't know a writer's style could change, and that a strange, fascinating city could hasten the process along. Each time I walked out of the Hôtel des Balcons, I could turn in any direction and find a Paris of mysteries both heady and disquieting. In my mind, I could take along the novel I was working on. I could wander the inimitable greenness of the Luxembourg Gardens with characters who knew how to clean M1 rifles and spoke in southern accents.
If I veered right when I exited my hotel, I would soon be walking beside the river toward the islands of the Seine, or drifting through the imposing college buildings of the Sorbonne, watching the impeccably dressed diners enter La Tour d'Argent. Both day and night, I walked Paris as though it were duty and opportunity and chance of a lifetime. My mother had made me hunger for culture from the day I was born, and now I found myself a temporary citizen in a city that had given the world its most beautiful language and writers passionate enough and gifted enough to write books that were deathless and breathtaking in their execution. It was the winter I read Marcel Proust's In Search of Lost Time from beginning to end, then visited his grave at Père-Lachaise Cemetery and had lunch there. When Parisians spoke to each other in restaurants and cafés, it sounded to me as though they were passing orchids and roses through their lips. I spoke French like a donkey, and no amount of mimicry or fakery could make any of the French think differently. There was not a French word I could not make potted meat of as it fell to the floor from the meat grinder of my tongue. There was not a single district in the city I could enter without becoming a laughingstock when I ordered a brioche or a dozen escargots.
In the evening I would often join Jonathan and Susan Galassi for dinner at a restaurant they had selected with great care for both its quality and relative cheapness. They were living in the lovely Hôtel des Grandes Écoles, across the street from the sawmill where Ernest and Hadley Hemingway had lived when they were young and poor and in love with Paris and each other.
I had never met a couple like the Galassis in my life. The sheer range of their education and intellectual passions bedazzled me. Often we would begin our evenings with a slow walk down the Rue Mouffetard, a profligate market street with endless stores overflowing with fruits and cheeses and vegetables of every sort. To me, it looked as if the farmers of France had delivered everything their fields could grow to this amazing, spilling-down street where carts reeling with tomatoes, avocados, cauliflowers, and grapes stood taller than I did. Sometimes, we would stop and buy food for our lunches the next day.
That winter we ate cheaply. That winter we ate like princes of the earth. The Galassis would study the menus of brasseries and cafés that fell within the realms of our limited budgets. By the light of candles, I ate sweetbreads and lamb kidneys for the first time and learned the extraordinary range of pâtés and the names of fish that swam in the Mediterranean. Meanwhile, we would talk about the work we had done that day. Susan Galassi, as finely boned and pretty as the woman etched into the bottle of White Shoulders perfume, would speak of her progress on her doctoral dissertation, which she was calling Picasso: Variations of the Old Masters. One night she took us to Delacroix's studio; afterward, we ended the evening by toasting each other with Armagnac, a rougher kind of Cognac that they had discovered on their honeymoon. As we lifted our glasses, tuxedoed waiters flowed past us at Les Deux Magots, where Sartre and Beauvoir had once argued philosophy. We pledged our friendship to be immortal and unbreakable. I felt like an artist, bright and footloose on the boulevards.
All day I would write. It came to me in a flood tide, like it has never come before or since. At night I would attend concerts with the Galassis, or the opera, and I would roam the Louvre and other art galleries with Susan whenever I could. She could take a painting, any painting, and contrive a love story to it in words that sprang out of her with vivacity and charm. When she was confronted by a masterpiece she had given her heart to, the words came out slowly, and I could watch the conversion that has always united art and prayer. To Susan, an art gallery was her cathedral, her sacristy, her confessional, and her life's work. My great luck lay in her openness of heart as she shared the secrets of canvases I had never heard of, and her eyes appraised the work of artists through miles and miles of Parisian hallways. Art, like the Seine, was just another river to fall in love with in Paris.
Before they left for Rome for the final months of their sabbatical, Jonathan made a long-distance phone call to Houghton Mifflin to get permission to take me to one fine restaurant in Paris. Neither of us had produced great dividends for the company at that time, but he received permission to eat in a nice restaurant, though not a fine one. We chose a celebrated French place called Dodin-Bouffant, which was known for its seafood, for one of our last nights together. I ordered a half-dozen Be-lon oysters because I did not want to return to the States without ever having tasted the famous Belons, and they were priced like amethysts even in those faraway days. They were cold, superb, and salty, and a Chablis Premier Cru that Jon had selected accompanied them to perfection. As the meal progressed, I remember passing around plates that contained Do-ver sole, turbot, and a scallop dish that approached sub-limity. The meal ended with a cheese cart, then Armagnac, and then talk turned to our meeting in Rome, when the novel would be finished and I would present a manuscript to Jonathan in payment to him for the ineffable gift of Paris.
or over a month I was in Paris alone, writing about characters who moved through the streets and houses and barracks of Charleston, South Carolina. The weather began to change slowly, and I could feel spring in its ballet slippers making its shy appearance onstage in the Luxembourg Gardens. The fruit and vegetables on the market street of the Rue de Seine near my hotel grew brighter and fresher every day. The chestnut trees began to bloom, and I had never known those magnificent trees were one of the glories of Paris. Each day I wrote a letter or a postcard to my three daugh-ters in Atlanta. I would go to American Express to mail them, stopping by the Louvre each time I went. I received a letter from my friend Cliff Grau-bart, telling me that he and another friend, Frank Smith, were going to meet me in Paris in the middle of May. The three of us would drive my manuscript down to Rome. "Plan to have the greatest time of your life," Cliff wrote, and I so promised my-self.
The day before I finished The Lords of Discipline, I wrote the last chapter of the novel in a single sitting. One cadet had betrayed his three room-mates and that cadet was my favorite character in the book. But novels take on a life of their own and sometimes drift out of the writer's control. I now know that could happen even when the writer was living in Paris. Now, Atlanta was calling me away from this enchanting, provocative city, a part of which would live inside me forever.
When I met Frank and Cliff at the Gare du Nord the next day, I was greeting one of the best parts of my Atlanta life. Before we left Paris, we rented a white Simca and bought three wineglasses, a corkscrew, paper plates, knives and forks, and paper napkins. At a charcuterie near the Hôtel des Balcons, we bought our lunch for the first day, consisting of two cheeses, Chaource and Camembert, a hard sausage, a duck pâté, a baguette, and a bottle of Rosé d'Anjou. I packed my 700-page manuscript as carefully as though I were transporting the Book of Kells across hostile borders. While putting it in my suitcase, it struck me as a very bad idea that I had resisted mak-ing a copy of the book because of the exorbitant price. We loaded up the Simca with our luggage and set out for Rome with Frank, driving out of the sixth arrondissement, my home for five months.
We took all backroads through the peerless French countryside, through villages that were breathtaking to behold and past farms that were hundreds of years old. For lunch, we stopped and ate beneath an arched bridge that crossed over a swift stream where trout hunted mayflies. A herd of sheep grazed on a nearby hillside. We ate slowly, spreading the pâté on pieces of the baguette after Frank had cut sausage and cheese with his well-kept Swiss Army knife, and Cliff had cooled the wine in the stream before opening it.
"This must be the most beautiful spot in Europe," Frank said. "You'll say that ten thousand more times before we get to Rome," I told him.
Lunch became our joy and our specialty. We searched out locally produced cheeses, olives, sausages, and breads. We tried to buy wines made in the same district where we purchased them. We lunched on a pier overlooking the city of -Geneva, near a waterfall looking at a monastery near Brig, Switzerland, and in the ruins of a portico that extended out into the waters of Lake Maggiore, in Italy. At Maggiore, as we feasted on grapes and olives and prosciutto, we agreed we had come to the most beautiful place on earth.
At one of the beaches near Portofino, Cliff and Frank decided that they wanted to join the crowds who were swimming in the ocean. I issued a warning that I had been robbed my first time in Rome, but the day was hot, and Cliff and Frank were determined they were not going back to America without having swum in the Mediterranean. We locked the car, changed into our bathing suits, and, despite my misgivings, were soon by the water's edge. Frank and Cliff swam out into deep water as I remained in the shallows and tried to keep an eye on the car. I soon grew fascinated by the sight of an Italian man lifting black sea urchins out of the water, disemboweling them, and eating them raw.
When we returned to the car, Cliff was the first to notice that a thief had kicked in one of the windows and robbed us. Frank lost his camera and Cliff lost a gold watch his father had given him. I went weak at the knees when I remembered that my manuscript was in a suitcase in the backseat. If the robber had reached in and stolen all the luggage, my life would be very different today. I could easily have lost five years of my life. But he was discriminating in his desires and had no need for a novel written in a strange tongue.
On the evening we entered Rome, we rented a cheap hotel room near the Spanish Steps and met Jonathan and Susan Galassi for dinner at the Trattoria del Pantheon da Fortunato. I handed my novel to Jonathan, and the next day he called to tell me that he would accept it if I would make one major change. When we met, I agreed on the spot to the change, and we shook hands. For the next two days Jonathan and Susan took us around to explore a city they had come to love as much as they had Paris. Here, in a Roman setting, they seem-ed even more cosmopolitan, sophisticated, and enlightened than ever, and they treated Cliff and Frank as though they had known them all their lives. Because of fate, the Galassis had given me the city of Paris, which led to Frank and Cliff's discovery of Europe.
On my last night in Rome, I watched the sunset with the Galassis on their terrace in Trastevere. I was full of emotion and felt lucky to have such friends. The sun darkened the enameled, coppery city below us. I raised a glass of wine to toast my friends before I went back to my life in Atlanta, the one I was born to live.
When I had first gone to Paris, almost 20 years before, I had read F. Scott Fitzgerald's broken-down, elegiac novel Tender Is the Night. I had always loved his dedication to Sara and Gerald Murphy in the book, and that is what I wanted to convey as I toasted friends and Europe good-bye. "Many fêtes," I tried to say. I don't think anyone heard me, but they all caught the mood of what I meant.