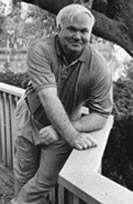 March 3, 2009 – Reconciliation at the Citadel, Through Basketball
By Charles McGrath
The Citadel, which like all military colleges has struggled both to find and to keep undergraduates willing to wear uniforms, stand at attention and march in parades, has never been much of a basketball power. The cadets are better known for attacking a Union steamer three months before the official start of the Civil War, and for bizarre hazing rituals like the one in which knobs, or first-year students, were dabbed with brass-polish remover and set on fire.
The Citadel's most famous alumnus is not an athlete, or even a general, but a novelist, Pat Conroy, class of '67, who dared to write about the place and made himself so unpopular that for 30 years he was all but barred from the campus. Last week, though, he was on hand to see his former team thump Furman, its archrival, 75-54.
The two teams have been playing each other since the 1919-20 season, but the rivalry became particularly fraught in the '60s, Conroy said, when some Citadel students attempted to steal the horse that the Furman mascot, a knight, used to ride and, while trying to cram it into a car trunk, inadvertently killed the poor beast.
Over the decades, Citadel basketball has endured many more losing seasons than winning ones; two years ago the team was 7-23, and last year it was even worse, 6-24. But this season, despite having one of the youngest rosters in college basketball, the Citadel has had a remarkable turnaround. After a 74-53 victory on Monday night at Georgia Southern, the Citadel ended the regular season with a 20-11 record, tied for second in the Southern Conference at 15-5. That earned the Bulldogs a first-round bye in the conference tournament, which starts Thursday. A decent performance in the conference tournament could bring them a bid to the National Invitation Tournament; winning the conference tournament would give them a berth in the N.C.A.A. tournament and enable the Citadel to at last erase itself from the forlorn list of colleges — the Citadel, Army, Northwestern, St. Francis of Brooklyn and William and Mary — that have played major college basketball since 1947-48 and never made it that far.
The person most responsible for this revival is the Citadel's third-year coach, Ed Conroy, 41, who was a Citadel basketball star in the late '80s and the inheritor of a dark but finally redemptive Citadel legacy. He is Pat Conroy's much younger first cousin, born the year Pat graduated. When Ed was growing up in Davenport, Iowa, his cousin Pat was still at such odds with the Citadel and the Conroy name was still so toxic at the college that Ed did not think he could possibly get in, let alone play there.
"I remember feeling guilty the first time I visited," he recalled recently. "I thought there's no way that with my last name I'm going to the Citadel."
He became determined to attend in part because of his cousin's novel "The Lords of Discipline," which though in many ways an indictment of the Citadel nevertheless celebrated the bond of friendship there. But still, he enrolled with some foreboding. "The movie of 'The Lords of Discipline' had just come out," he said, "and Pat was always in the papers then, tweaking the Citadel.
"But in some ways, it was a blessing. As a knob, you're always wondering when they're going to come after you. Is tomorrow the day? In my case, it took about three days. First they said to me, 'Is Pat Conroy your father,' and I'm, 'Sir, no sir.' Then it was, 'Are you related to Pat Conroy?' and I had to say, 'Sir, yes sir.' It was all verbal, though — what I had to go through — and actually it helped me get over some of the fears sooner."
He added: "Really, it has never stopped. There are some alums who will never forgive Pat, but it's mostly whispers now and mumbles."
Pat Conroy and the Citadel were in many ways an unlikely match. As a young man, he was shy, sensitive, had a problem with authority and wanted to be a writer, not a soldier. He went to the Citadel to play basketball, though except as a passer and ball handler he was only marginally a Division I athlete. He was short, had small hands and employed an underhand free-throw technique that was antique even then.His shots were so unreliable that the coach used to implore him not to take any. But as he demonstrates in "My Losing Season," his 2002 memoir, he played the game with uncommon passion and toughness, and was the captain and the team's most valuable player in his senior year, when the Citadel was 8-16. The coach said of Conroy that he "gets more out of his talent than any player I've ever coached."
Off the court was another story. Conroy never fully bought into the Citadel system, especially the freshman hazing. By his own admission, he was "mouthy," and was such a sloppy, demerit-ridden cadet that even as a senior he had not advanced beyond the rank of private. In later years, when asked to compare himself with a typical Citadel grad, he liked to say, "I'm richer, smarter, more famous and nicer."
Relations between Conroy and his alma mater began to deteriorate in 1970 with the appearance of "The Boo," his self-published novel based in part on Lt. Col. Thomas Courvoisie, the assistant commandant of cadets when Conroy was there.
"It was banned on campus for about six years," Conroy said, sitting in the Citadel's McAlister Field House, a place to which he used to think he could never return. His exile from the Citadel really began in 1980, he added, when he published "The Lords of Discipline," a novel that depicted racism, brutality and official corruption at a place called the Carolina Military Institute, though the disguise fooled nobody.
"That was the nuclear explosion," Conroy said. "I was warned that it would be dangerous for me to go back to the Citadel and so I didn't."
He reluctantly missed Ed's graduation in 1989 and, a few years later, the graduation of his best friend's son. Then, to make things worse, in 1995, Conroy publicly embraced the cause of Shannon Faulkner, who was attempting to become the first female cadet to enter the Citadel. Back then, Conroy was not just unwelcome on campus, he could not walk the streets of Charleston without someone stopping a car and hopping out to yell at him.
"There was one guy," Conroy said, "who got back in his car and then jumped out again and shouted, 'Class of '59!' " Conroy laughed and shook his head. "Citadel grads are the biggest bunch of loudmouths who ever lived."
But even the fiercest of flames eventually consume themselves. Conroy has a new novel coming out in which the three main characters go to the Citadel and, remarkably, all three like it there.
"Certainly a mellowing has gone on," Conroy said. "What is sillier than a 60-year-old man feuding with his college?"
The thawing process was begun by Conroy's father, Donald, of all people — the model for the abusive, bullying and tyrannical father in Conroy's novel "The Great Santini." In one of the oddest twists in the Conroy story, Donald became somewhat chastened after reading "The Great Santini." He had retired by then, his wife had left him, and, at loose ends, he more or less adopted his brother Ed's family — Ed Jr. especially. He became the kind of father he never was to his own children, and a devoted fan of Ed's Citadel career.
In the late '90s, Conroy said, "My father, who had an I.Q. the temperature of this room, tells me that it was time for me to help the school." So he resumed what he called "diplomatic relations" with Maj. Gen. John Grinalds, then the commandant, and in 2001, Pat was welcomed back to the campus with a parade and an honorary degree. "A lot more people than the public realizes wanted to heal the rift," General Grinalds said before the Furman game. "Pat is such an inspiring writer and in his own unique way a proselytizer for the values of the Citadel."
Ed Conroy said that his cousin has even become a recruiting tool."Whenever I visit a kid now, they've all read 'The Lords of Discipline' and 'My Losing Season.' That's the first thing they ask about, and the books back up the kinds of things I talk about. You can't question the bonds here and the leadership, because even Pat responds to that."He added: "I tell them, if you want easy, instant gratification, don't sign on here. If you can take a challenge, if you understand about paying a price to get a reward, then let's pursue this."
The success of the team, he said, stemmed largely from his success in recruiting a crop of young players who not only tolerated the Citadel system but flourished in it, bringing to the court the kind of leadership they learned in their military training.
Now white-haired and a little lame, Pat sat beaming in the front row during the Furman game. Before the game and at halftime, classmates, and the sons and grandsons of classmates, came up to greet him. Women kissed him. Little kids asked for autographs.
Rusty from an eight-day layoff, the Bulldogs started slowly and led by 3 at the half. Conroy praised their defense: "We were never taught defense. It was every man for himself." In the second half, the Bulldogs went on a roll, lobbing in 3-pointers and sinking free throws, and sprinted to a 28-point lead. The cadets in the stands were so excited they were jumping in place.
"I'm having fun now," Conroy said, "though really, I'm more comfortable losing."
Pointing across the court to Furman's Jeff Jackson, he said: "It's so great to see a black coach. When I was here, a black man wasn't allowed inside this building." He added that his coach, Mel Thompson, was not convinced that black players had a future in basketball, and said, "Mel wasn't much of a prophet."
Today, 6 percent of the Citadel's undergraduate enrollment of about 2,000 cadets are women, and about 15 percent are minority students. Conroy marveled at his cousin's composure when disputing questionable calls.
"Ed is more controlled than a typical Conroy," he said. "We had far more insanity in my branch of the family."
Earlier, he said: "I didn't think I was going to be able to come back to this campus for the rest of my life. Ed has reconnected me. His whole career has been good for me. He just did everything so well. I wasn't a very good player, but when I played that last game, what killed me was that I knew basketball was over. It gave me a sense of joy, of repletion, that I've never known elsewhere. I loved every part of it."