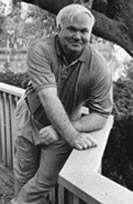 March 2009 – "His Winning Season: The story of Pat Conroy, the real 'Great Santini' and The Citadel basketball team's remarkable run"
By Wright Thompson
CHARLESTON, S.C. — Pat Conroy's dad hit him after games. He hit him with fists, and with open palms, hit him until blood ran from Pat's nose or lip onto his basketball jersey. Don Conroy didn't hit his son only after games. He hit him for smiling at the wrong time, talking at the wrong time, crying at the wrong time, for trying to defend his battered mother at the wrong time. On occasion, he hit him just for the hell of it. Pat's first childhood memory is of sitting in a high chair watching his mother try to kill his father with a kitchen knife and then his dad laughing while beating her to the floor. There was only one place during the long night of Pat's childhood where his father's fury couldn't touch him.
He felt safe on the basketball court.
If I make enough teams or score enough points, maybe he'll be proud of me, Pat thought. So he became a high school star, then went off to play at The Citadel. He never stopped seeking his father's acceptance. In his senior year, Pat received a fancy pen set for playing in a tournament in Tampa, Fla., and he wrapped it up for Christmas, imagining his dad putting the gift on his desk and proudly telling fellow Marines about his son's career. Later Christmas morning, after the family had finished opening presents, Pat was taking the garbage to the curb when he found his treasured pen set mixed in with discarded wrapping paper and ribbons. His dad had already thrown it away.
Don went to just a few of his son's college games, always belittling him. The first one he attended, Pat led all scorers with 25, a career high. Afterward, Pat couldn't wait to find his dad, to finally hear an apology, some small acknowledgement that he could play.
"You were s— tonight," Don Conroy said.
He put his hand on Pat's chest and shoved him against the wall. "You couldn't hold my jock as a ballplayer."
"Can I see Mom?" Pat asked.
"Negative."
And so it went, game bleeding into game, as had the towns of his childhood, until finally, Pat's playing career was over. In the locker room after his final game, he thought of what basketball had meant and how it had protected him. He felt the presence of the small, beaten child he'd been, and he believed that little boy understood his mourning. He cried loud, heaving tears, covering his face with his jersey. A part of Pat Conroy died that night.
He left The Citadel, trying to make sense of his broken life. Basketball was gone. Now he used words, willing himself to become a writer. He became a famous one.
He wrote "The Great Santini," introducing the world to the violent Bull Meecham, sharing his family's dark secrets, turning his fighter-pilot father and Don's nickname into an international cliché for horrible parenting. While re-creating his childhood, he suffered a breakdown and attempted suicide. His family exploded when the book came out. His grandmother never spoke to him again. Rumor has it, Pat says, his mother presented the book to the judge during the divorce proceedings, saying all the evidence he needed was between these covers.
He wrote "The Lords of Discipline," changing forever the way people viewed The Citadel, revealing hidden layers of institutional anger and cruelty and racism. The military college's alumni responded with hatred, vowing if he ever set foot on campus, he might never step off.
He wrote "My Losing Season," a best-selling memoir that cemented the unrelentingly dismal legacy of Citadel basketball. The Bulldogs are one of just five of the original Division I teams never to have made the NCAA tournament.
Conroy's novels were turned into blockbuster movies, not that it helped much. He cashed Hollywood checks and burned through two marriages, all the while shadowed by a black depression that would arise from the marshes of his past and roll him to the bottom, sending him searching through South Carolina pawn shops for guns. All his literary success couldn't buy the pride of a father and the acceptance of his school, just as all the heart in the world couldn't bring a winning team to McAlister Field House.
Those were three things Pat Conroy was certain he'd never live to see.
Another Conroy and The Citadel
Not long after "Lords of Discipline" came out, Ed Conroy sat in the basement bedroom he shared with his brother and reread the book, turning the stories of cruelty and hazing over in his head. He had read it before, since all kids should read their first cousin's famous books; his dad was the Santini's brother. This time, Ed read it for a different reason. He was thinking about the truly unthinkable: going to The Citadel.
The coaches thought he could play, and he wanted to go D-I. Coach Les Robinson had even done something he had never done before and would never do again: He called the chairman of the school's board of visitors and asked whether he could recruit a particular player: Pat Conroy's cousin. The chairman said yes.
Reading the book, Ed found something other than violence in the story, something the Citadel family didn't understand. It wasn't a story only about hatred; it was also a story about love. Ed called his cousin Pat, who would write about the conversation years later.
"I just read 'The Lords of Discipline' for the fourth time," Ed said.
"You want to do a book report?" Pat asked.
"I think I want to go to The Citadel, Cousin Pat," he said.
"What is it, Ed?" Pat asked. "Dyslexia? A learning disability? Why would anyone in their right mind want to go to The Citadel after reading that book?"
"For the brotherhood," Ed said. "The brotherhood."
"The Citadel is as good as any school on earth when it comes to that," Pat said.
"And the discipline," Ed said.
"They've got plenty of that stuff, Ed," Pat said. "I've got one piece of advice: Change your last name before you enroll there."
"I'm proud of being a Conroy," young Ed said. "I'm proud that you wrote that book."
"Promise me you'll never tell anyone that if you go to The Citadel," Pat said.
"I promise," said Ed.
At The Citadel, Ed Conroy was assigned to Mike Company — Military Mike — one of the more hard-core groups on campus. He settled into his room with the other freshmen, called "knobs" because of their shaved heads, and prepared for the yearlong hazing. The noise in the barracks was almost indescribable, a steady menacing roar that could be heard across campus, with the occasional scream reaching out, a wave rising above the rumble. His roommate paled when he found out about Ed's family tree. They hoped nobody would figure it out. The first night, Ed's hope of flying below the radar ran into its first bump: name tags. "I didn't factor that in," he says. "I didn't factor it would say 'C-o-n-r-o-y' right there on your chest."
For two days, the upperclassmen asked over and over again, "Are you Pat Conroy's son?"
A cadet cannot lie, cheat or steal, or he faces immediate expulsion. Ed didn't have to.
"Sir, no, sir."
On about the third day, he and the other knobs marched to the tailor shop, and there, beneath the shade of a big tree, the highest point in Charleston, an upperclassman from another company saw his name tag. He asked the question slightly differently and changed Ed's life.
"Are you related to Pat Conroy?"
"Sir, yes, sir."
They seemed to rise up out of the ground, coming at him like Marines storming ashore, screaming under the tree, then back at the barracks, everywhere. They'd come and threaten with famous lines from the book or the movie, just as alums would slam on the brakes in the middle of Charleston to cuss out Pat. Later during Ed's time at The Citadel, someone painted "Conroy sucks" on the school's silver water tower. At one point in his awful freshman year, the team traveled to play an intersquad scrimmage in front of fans. The crowd booed and hissed when he was introduced, and that night Ed told some of his teammates he was quitting. The entire reason he had joined The Citadel was to become a member of the family, to wear the ring, to have those connections. Would his last name make that impossible? As the bus rolled back toward the barracks, he wondered what he should do.
Ultimately, he chose to stay, and he graduated four years later in 1989 as the star of the team that had beaten South Carolina, a game they still talk about at The Citadel, and as the second-ranked cadet at the school. The family made plans to come to the graduation, but Pat received word that he was not to attend.
It still wasn't safe for him to be on campus.
Finding the soul of the 'Santini'
There was progress on other fronts. "The Great Santini" had turned the Conroys upside down, including the most unlikely Conroy of all. While Pat was writing the book, he told no one its subject matter. When he received his first copies, Pat called his dad over to give him the book. Don Conroy danced around the room: He saw it had been named for him.
"Dad," Pat told him, "go home and read it."
Two hours passed. Pat's phone rang. It was Don. He was sobbing. "Why do you hate me, son?"
Two more hours passed. Another phone call. He was weeping. Then he disappeared. Some family members worried he would kill himself. When he returned, in a way, he had. Reading about himself disgusted even Don Conroy. Starting that day and continuing for the rest of his life, Don set about proving that his son's description of him was false. He completely changed. No one could believe it. When Pat went on a book tour, Don went with him, signing books and often adding: "Thanks for reading my son's work of fiction." Then he would underline fiction, like, seven times. Finally, he and Pat were talking. And laughing. They became close. Don became the book, putting "Santini" on his license plate. He loved the movie, exclaiming to Pat when the Oscar nominations came out, "Son, you and I were nominated for Academy Awards last night. Your mother didn't get squat." It was all so strange, but nothing more so than this: When Pat wrote the book, he humanized the main character, sanding off some of his dad's edges because he didn't think readers would believe the truth. Later in life, Don took on those good traits Pat had invented; Pat Conroy rewrote his father.
Still, so many things couldn't be undone, but one thing could. Don became a fixture at Ed's Citadel games, the superfan, taking him out to eat on weekends, driving him back to Iowa for the summer, often turning simple road trips into grand adventures. Don would crank the car engine and say: Pat's reading in a few days, but Steve Carlton's pitching in Cincy, and that's on the way. Wanna go? The other Conroys joked that Ed was the Santini's real son.
"I don't know if it was his do-over; maybe there was something deep down where he was showing himself he could do it," Ed says. "I've heard about 'the Santini.' I don't doubt that there was a part of him I never saw."
When Don Conroy died in 1998, he was surrounded by his damaged children who had learned to love him. "It was very tough," Pat says. "I didn't think he was capable of dying." They cried at the funeral, then left him there in Beaufort, S.C., in the back of the National Cemetery, by a brick wall, in the shade of a tree, the ground around his grave covered in green clover. The bottom of his tombstone reads: Great Santini.
When Don's kids went through his possessions, they found stacks of scrapbooks, each bursting with photos and stories about Pat's literary career. He had been proud of his son after all.While Pat had been fixing the relationship with his father, the relationship with The Citadel had, improbably, grown worse. Almost every time something bad happened at The Citadel, Pat would fire off a letter to the editor of the local paper, becoming the conscience of the place, an unwelcome presence in a town run by Citadel grads. When Shannon Faulkner tried to become the first female cadet, he supported her. And when she was run out of school the first week and members of the corps celebrated like druids in the forest, he commented on that, too. Around the same time his dad died, his best friend's son graduated from The Citadel. Pat wanted to attend the ceremony. No, he was told. It still wasn't safe for him to be on campus.
Homecoming
That was 11 years ago. Today, The Citadel is a different place. Yes, the campus looks the same, the white tops rising above the tree line on the banks of the Ashley River, the crenellated walls and turrets giving the buildings a medieval swagger. The anchor of the USS Coral Sea and the F-4 Phantom are still in the corner of the parade ground, and the knobs still walk in the gutters and make all turns sharply. But some of those cadets are women. And the basketball team, after years of futility, has found a way to win. This is the school's best shot ever at an NCAA tournament bid, and The Citadel has basketball fever.
In McAlister Field House, an hour before tip-off, the architect of this success is addressing a group of boosters. Every eye is on Ed Conroy, who finished his playing career, then started coaching, finally returning to The Citadel three seasons ago.
This season, the team has completed the greatest turnaround in Southern Conference history and, on this night, is in the midst of an 11-game winning streak. The boosters laugh at his jokes and hang on his every word. One man standing in the back, trying to blend in, smiles, too. He's the most unlikely visitor here, a man who thought he'd never step inside this building again. "I also would like to welcome someone to our winning season," Ed says. "Where's Pat?"
Everybody turns. Then the damnedest thing happens. The powerful Citadel alums smile, wave, applaud. They warmly say hello, both here and later, when he takes his seat at the first game he has been to this season. An older gentleman needles Pat. Friendly bantering? Impossible just a decade ago.
"You better quit writing those damn books," the man says. "You and me won't have any secrets left. You're telling all our secrets.Your cousin's doing a great job."
After the man leaves, Pat says, "That guy wouldn't talk to me during my years of exile. Those guys would be screaming at me before."
The lights reflect off the far side of the court, the same one he played on. Pat can't stop shaking his head, looking at the cheerleaders — cheerleaders!?! — and at the corps of cadets jumping up and down, getting rowdy, bringing back a rush of memories. When the game settles into a rhythm, Pat's eyes turn bright and childlike, as if some old friend, long given up for dead, has come back into his life.
The Conroy history continues
How did this happen?
As the 21st century began, The Citadel was in trouble. The negative publicity fostered by Conroy's book and by the video of cadets celebrating Faulkner's departure damaged the place. Enrollment slipped, and a former Marine Corps general took over as school president, tasked with pointing The Citadel toward tomorrow instead of obsessing over yesterday.
Conroy, too, wondered what the war was costing him. His dirty little secret? He had always loved The Citadel, but he never really had learned how to show his love and, like so many things in his life, it wouldn't love him back. When the school reached out, he knew it was time. "We started a diplomatic relationship," he says. "I'd send an envoy to a secret place in Charleston, and they would have a powwow. What is sillier than a 60-year-old man feuding with his college?"
In 2000, the school gave him an honorary degree. He was announced as a true lover of The Citadel, and at that solemn moment, a cadet in the formation burst into laughter. Pat roared, too. It was over. That spring, he spoke at graduation. "Because of various aspects of my character and fates," he told them, "I did not get to address the corps of cadets in the last century. There were many years when I thought that Saddam Hussein or Jane Fonda had a better chance of addressing this class than I did."
Six years later, The Citadel needed a new basketball coach. It found the perfect candidate, that kid who had gone through hell because of his last name. The honorary degree made Pat welcome again; Ed's position as coach made Pat liked. It has cemented his return to the fold.
Ed's first two years were rough; last season, his team went 6-24, starting a lineup filled with freshmen. As you can imagine, the corps doesn't get into supporting a team of knobs. This season, everything's different. The team played South Carolina close just before Christmas, and the coaches and players felt they were close to a breakthrough. At halftime of the Western Carolina game a month later, Ed sensed the moment had arrived. He got animated, told his players they had the potential to do things never seen before at The Citadel. The guys came out, dominated and started the winning streak.
It's near the end of that streak — which finally came undone last weekend — as Conroy walks out of his office toward the mess hall, which doubles as a plebe-hazing zone. When he gets to Murray Barracks, a cadet yells out of the window, "Yeah, Coach, 11 in a row, baby!"
Inside the barracks, the timeless roar rolls on, knobs doing push-ups, braced at attention, chins tucked in, breathing hard, upperclassmen screaming instructions. The Citadel has changed, but that doesn't mean it's easy. The cadets march to lunch, where the plebes sit with their backs straight, eating without looking at their plates. Some stand the entire meal. There's a lot of yelling, but the words blend together. Lunch takes about 15 minutes, and it's intense. Ed steps to the podium at the front of the room and thanks the cadets for supporting the team. The night before, they had McAlister rocking, most attention focused on one poor opponent who shot an air ball.
"It was as good as I've ever seen the corps," he tells them. "I don't think No. 1 for Furman will ever forget the experience. I need your help one more time."
The cadets file out. One freshman spins around, trying to keep each turn sharp, while an upperclassman says, "Spin around in a circle! Say, 'Yay! Go Dawgs!'"
The knob spins and yells, "Yay! Go Dawgs!"
The Citadel is pulsating with energy, the result of a strange chain of events that began when Pat Conroy left these white buildings and wrote a novel that made him hated but made his cousin want to wear the ring. All this has Pat thinking about the circles in life, and how so many things come back around, time turning wrongs into rights. "Our history began in 1963 in that gym," he says, "and here we are in 2009 and the Conroy history continues with this gym."
Paths our fathers showed us
At the final horn of what proved to be the last victory of the Bulldogs' streak, Ed Conroy walks across the court to find Pat. After every game, the team and corps of cadets stand together and sing the Citadel alma mater to the fans. Ed wants Pat with him, with the team, with the corps. This moves Pat; he fights back tears and takes his place, his hand over his heart. He is the only one with his hand over his heart. Pat Conroy has come home. He still remembers the words.
Oh Citadel, we sing thy fame
For all the world to hear,
And in the paths our fathers showed us
Follow without fear.
Ed asks Pat to address the players in the locker room, and he does so movingly, lovingly, telling them that their exploits this season will make them famous in the Citadel family forever. And he urges them to keep dreaming. The experts say that to make the NCAA tournament's field of 65, the Bulldogs will need to win their conference tournament, which means beating Davidson and star Stephen Curry. They haven't won a conference title since 1927. With a 20-11 record, they probably need to make it to the finals of the conference tourney even to have a shot at the NIT. If that seems unlikely, don't try telling that to Pat Conroy. He already has experienced two miracles: repairing the most damaged of father-son relationships and being welcomed back into the Citadel family. Why not a third? "What's wrong with winning one more?" he asks the team. "What's wrong with winning the Southern Conference championship?"
He lingers on the court as the crowd empties into the shadows. A small group gathers around him, including a former teammate. Since the game ended, Pat has been looking at the cadets, at the black faces among the white ones, at the women with the men, at himself standing on the court, at the cheerleaders, laughing at how impossible it all seems. He wants to treasure it all. Writing consumes him, and he has been finishing a book, which is why this is the first game he has been to this season. He still writes longhand, and he wrote his most recent book with that pen set he had tried to give his father so many years ago. The latest work predictably features Citadel cadets as characters, three of them in particular. This time, they like the school.
Standing near the basket, the former teammate, Dave Bornhorst, asks about the latest rumor floating around Charleston. "Are you writing another book about your father?"
Conroy nods. "The change," he says. His eyes are blue and innocent, the eyes of a child who has found a place where he feels safe.
Wright Thompson is a senior writer for ESPN.com and ESPN The Magazine. He can be reached at wrightespn at gmail.com.