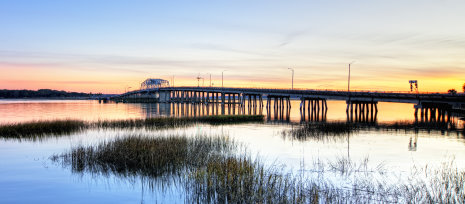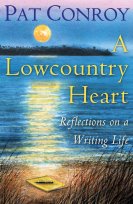 In 1961, the Marine Corps sent my father orders that would send the Conroy family rocketing toward a destiny we were never supposed to have. When our child-laden car entered Beaufort County as we crossed over the pristine waters of the Combahee River, I caught my first unforgettable view of the Great Salt Marsh. It was the year I learned to water-ski in the Broad River, that I attended my first oyster roast at a house on Port Royal Sound, and that a Marine colonel took me on a fishing trip to an uninhabited sea island called Fripp. It was during this enchanting, unforgettable year that I developed a Lowcountry heart.
When I began to write my books, I thought I carried the comeliness of the Lowcountry deep inside me. Its beauty was a shining thing and a living thing that would never leave me as long as I was true to that starry, everlasting river-fed country of my art. That was Beaufort's gift to me. I can't write an English sentence without breaking out in song praising the everlasting summons of these shining sea islands we call home. When I came to Beaufort I had struck upon a land so beautiful I had to hunt for other words that ached with the joyous, carnal charms of the green marshes that seemed to be the source of all life. I would watch the breath of earth move the high tides of spring as shrimp boats inched out to sea at first light. On the beaches, loggerhead turtles would emerge in the fire-struck linens (maybe havens?) of full moons to deposit glistening, sea-born eggs into funnels of beach-sculpted sands as herds of white-tailed deer drifted like smoke through palmetto forests. Osprey would impale the mullets from golf course lagoons, and cobia would lace their way through salt rivers in their own madness to spawn as blue herons hunted in perfect stillness, as hundreds of thousands of horseshoe crabs gathered to mate in the shallows along Land's End. This is the homeplace the Marine Corps brought me to as a boy. In my stories, my currents are shad-honored and dolphin-laced. They bring the sure knowledge that the lord of waters watches over them in the deepest pride of creation.
Ten years ago, I stood on a balcony of an endangered house that sat on the beachfront of Fripp Island. The man standing beside me was from the Upcountry. He was well-spoken and deeply religious. He and I watched a full moon rise out of the Atlantic. Neither of us spoke a word. The moon laid down a prayer cloth of light that stretched out for a thousand miles of seawater.
The man spoke first. "I'm afraid of dying," he said. "Because you'll miss all this," I said.
"No," he said. "I'm worried that heaven's not going to be this pretty."
I knew the soul of that man by the words he spoke. And I know the souls of the people who have gathered here tonight. We are here because of our love of this incomparable portion of the earth. We are here because we have Lowcountry hearts.
— From the book
Description
This new volume of Pat Conroy's nonfiction brings together some of the most charming interviews, magazine articles, speeches, and letters from his long literary career, many of them addressed directly to his readers with his habitual greeting, "Hey, out there." Ranging across diverse subjects, such as favorite recent reads, the challenge of staying motivated to exercise, and processing the loss of dear friends, Conroy's eminently memorable pieces offer a unique window into the life of a true titan of Southern writing.
With a beautiful introduction from his widow, novelist Cassandra King, A Lowcountry Heart also honors Conroy's legacy and the innumerable lives he touched. Finally, the collection turns to remembrances of "The Great Conroy," as he is lovingly titled by friends, and concludes with a eulogy. The inarguable power of Conroy's work resonates throughout A Lowcountry Heart, and his influence promises to endure.
This moving tribute is sure to be a cherished keepsake for any true Conroy fan and remain a lasting monument to one of the best-loved masters of contemporary American letters.
Praise for Pat Conroy
"Conroy is a master of language."
The Atlanta Journal
"Conroy is an immensely gifted stylist….No one can describe a tide or a sunset with his lyricism and exactitude."
Chris Bohjalian, The Washington Post
"Conroy writes with a momentum that's impossible to resist."
People
"Conroy takes aim at our darkest emotions, lets the arrow fly and hits a bull's-eye almost every time."
Milwaukee Journal Sentinel
"Pat Conroy's writing contains a virtue now rare in most contemporary fiction: passion."
The Denver Post
"Few novelists write as well, and none as beautifully."
Lexington Herald-Leader
"God preserve Pat Conroy."
The Boston Globe